Sites
ist of Recommended Websites
Official Fox sites:
Official Fox Terminator: The Sarah Connor Chronicles Site.
Fox TSCC Wiki: – Official Fox Site
TERMINATORFILES.com Your #1 Stop for All things Terminator!
TheArnoldFans.com – The Web's #1 source for Arnold Schwarzenegger & Terminator news!

2GuysTalking.com - fan podcasts of TSCC & the Terminator Film franchise!
The Futon Critic – Source for Episode Info & Airdates.
Terminator.ch – awesome international Terminator fansite!
Where to Purchase TSCC:
iTunes – Download full episodes for your iPod
Amazon Unboxed: Purchase Digital copies of episodes for download!
Cast & Crew Sites:
Summer-Glau.net – the best0 fansite on the web for all things Summer!

Dekker Daily – your #1 source for all things Thomas Dekker!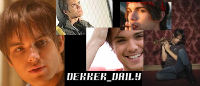 Lena Headey Source – #1 Fansite on the web for Lena Headey news.
Bear McCreary Official Website – official website for TSCC Composer Bear McCreary.
Almost Human – Make-up Artist Rob Hall's Website:
TSCC Fan Sites:
Erika's Star Wars & Sarah Connor Fansite: My personal fansite that hosts my TSCC artwork & Star Wars fanfiction!
Kiki's Fortress – TSCC, Smallville, and Supernatural Fanart!