SCS Store
NEW! You can rent Terminator The Sarah Connor Chronicles from NetFlix and support our site and our show at the same time! This is a great way to get into the show. Click on the link below to rent the series and join Netflix. They have really inexpensive programs for unlimited monthly rentals.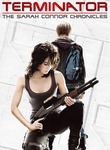 Help support our site by ordering your Terminator items through our links. Any referral fees go to paying our server bill & our photo subscriptions. Only links on the site are completely related merchandise from Amazon.com.
Want even more Terminator that we have here? Click on THIS LINK to enter the SCS Terminator Store on Amazon!